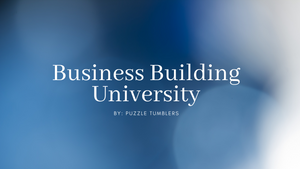 Welcome to Puzzle Tumblers Business Building University.
*NO DISCOUNT OR REWARD CODES CAN BE APPLIED TO THIS COURSE*
Are you ready to grow your small business? Build your own brand?
Want to learn how to save money on products you already purchase?
Learn the in's and out's of Shopify
Access to High Quality Vendors (Tumblers, Glitter, Sublimation, Molds)
Marketing Content & Material Creation
Tax Information and so much more!
Are you ready to take your hobby to the next level? Then you're in the right place.  I want to help you grow and manage a profitable small business from home – doing what you LOVE!
What is being taught in this course:
How to apply for an EIN, LLC, and Sales License
Purchasing a Domain Name
Creating a Business Logo
Facebook Business Setup
Marketing Content & Creation with Canva
PayPal for Business
Shopify Set up
Business Banking
DUNS - Business Credit
USPS & UPS Business Account
Amazon for Business
High Quality & Trusted Vendors are provided and MORE!
What are you waiting for? Let's help motivate each other, support one another, collaborate, share a wealth of knowledge & ideas, while building a sustainable online business from home.  If this sounds good to you – invest in yourself today! Sign up NOW!
Introduction:
I would like to take a moment to introduce myself. I'm Jessica Robin, a fellow crafter, small business owner of Puzzle Tumblers LLC, single mother of autistic twin boys, mother of 3, who has 16+ years of education teaching experience in the field of Business.  I have 3 college degrees to include: an Associate's Degree in Computer Information Systems, a Bachelor's Degree in International Business & Spanish, and an MBA in Business.  I have 2 teaching certifications with over - 9+ years of secondary Business teaching experience and 9+ years of post-secondary Business teaching experience at the University level. I look forward to sharing my wealth of knowledge with everyone in this Online Business Building University!
I have created BBU so you do not have to struggle like I did.  I have discovered the master key for what it takes to start up and run a successful small business from HOME and I want to share my knowledge and experience with others.
In my BBU Courses – I will walk you through step by step how to set up your small business, create your website, add products, shipping, marketing your business, creating Canva Ads, VENDORS, photography, and so much more! I am giving you the tools and education to build a flourishing business and I am dedicated to helping you succeed.
Your 1 time Membership Fee – grants you Access to a Members ONLY dedicated  Group created solely to support small business owners on their journey to creating a sustainable and profitable business. What an amazing opportunity to be able to collaborate with other like-minded individuals!
Let my small businesses speak for themselves – you can view my products, brand, and reputation at www.puzzletumblers.com and www.puzzlemolds.com.  I have more than tripled my online sales from last year to this year......so let me help you make money doing what you LOVE!
My goal is to teach and mentor you along the way, as you set up and create a successful small business doing what you love from the comfort of home! Work smarter, using my proven strategies for success.
-Jessica
Puzzle Tumblers
Business Building University