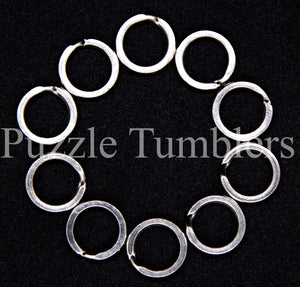 10 - Premium Corrosion Resistant Stainless Steel Rings
PREMIUM MATERIAL - Stainless Steel Rings, High strength rings, extra-strength stainless steel, corrosion-resistant finish.
*Disclaimer: I do not know if these will fit on other sizes/styles of straws.  I guarantee they will fit on the 9" and 11" hard plastic straws sold here at Puzzle Tumblers.  **These are the same straws that come with the Skinny and Football Tumblers.
**Disclaimer: This is NOT a Jump Ring.