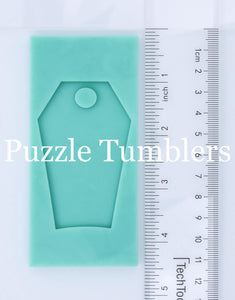 Custom Hand-Made mold.
*Disclaimer: small imperfections and/or micro bubbles, etc. 'may' exist within the mold. as they are hand-made. The molds are hand-made and poured by: Jessica Robin. Mold colors/pigment may vary: blue, purple, pink, and coral. 
Handmade silicone mold
*This mold has been tested to fit on the lids of the original 30oz Stanley Quencher H2.0 Tumbler Lid ONLY. This will also fit on the Stanley 20oz lid as well.
**This mold will NOT fit on any 40oz tumbler lids.