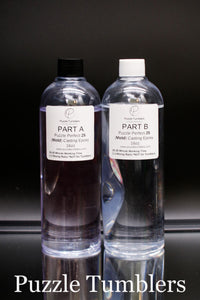 **ALL SALES FINAL ON EPOXY!**
Puzzle Perfect 25
Fast Curing - (Mold) Epoxy
25 Minutes of Working Time
Cured to touch in <4 hours AND Fully Cured in 24 hours 
Crystal Clear: high gloss
Transparent finish
UV resistant
Smooth finish
Easy to use 1:1 ratio
Non-toxic & Low Odor FDA Compliant
Compatible With Many Pigments, Glitter, Micas, and more
1:1 Ratio (By Volume)
Shortened Working Time of 25 minutes
Full Cured to touch in <4 hours and fully hardened/cured in 24 hours
High Gloss Finish
No VOCs (VOC Free)
Non-Flammable
Self-Leveling
Water Resistant
Water-Clear Cure
Working time at 70-75°F is 25 Minutes at room temperature
Temperature resistant of 475° Fahrenheit after 1 full day of curing
Recommended to NOT warm your epoxy prior to usage.
Great for casting in silicone molds and more!
Use within 2 months of purchase for best results - no implied warranty beyond 60 days of purchase.
Available Sizes:
32oz Kit = 16 ounces Part A (is Non-Transparent) + 16 ounces Part B (Transparent)
25 minutes of working time.  Hard to the touch in LESS THAN 4 hours. Fully CURED in 24 hours.
Great to use for casting with silicone molds and art work!
Safety: Puzzle Perfect 25 (Mold) Casting Epoxy is non-toxic and safe for indoor usage.  It is highly recommended that you use the product in a well ventilated workspace with an open window or fan.  Gloves should be worn at all times during the usage of Puzzle Perfect 25 (Mold) Casting Epoxy.  Always protect your skin from possible irritation.  Never apply with your bare hands.  If you should get epoxy on your hands or skin, wash immediately with soap and warm water.  Do not rub on your eyes or make contact with your eyes.  If skin irritation or allergies persist, seek out immediate medical attention. *Keep away and out of reach from children.
Usage/Liability: Puzzle Tumblers LLC, will not have liability extending beyond the purchase of this product. Use within 2 months of purchase. Not to include: usage, damages, incidental, and or inconsequential. By purchasing this product you are agreeing to not hold Puzzle Tumblers LLC responsible or liable in any way for any claims, damages, losses, expenses, costs or liabilities whatsoever (including, without limitation, any direct or indirect damages) resulting or arising directly or indirectly from your use of Puzzle Perfect 25 (Mold) Casting Epoxy. Puzzle Tumblers LLC does not take any responsibility and is are not liable for any damage caused through use of products or services purchased through this website, be it indirect, special, incidental or consequential damages.